doTERRA DIGESTZEN
DigestZen®
Digestive Blend
DigestZen Digestive Blend is specially formulated to support healthy digestion.* This essential oil blend can be taken internally or massaged topically to soothe occasional stomach issues.

Usage Tips:
Rub on the stomach before flying or taking a road trip for a calming aroma.
Take DigestZen internally when trying new foods to soothe occasional stomach upset.*
Add to water or tea to maintain a healthy gastrointestinal tract.*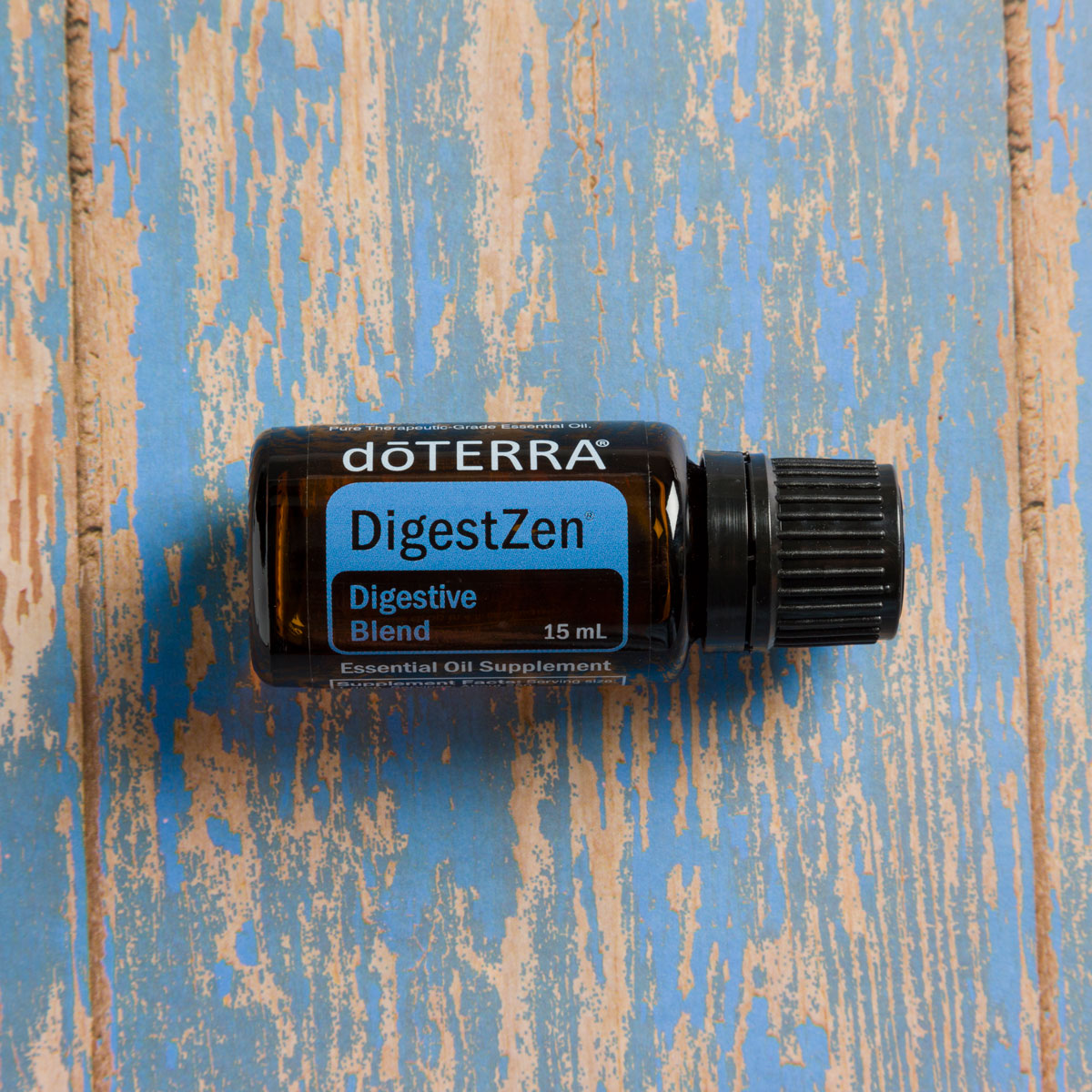 Learn More
DigestZen is a soothing digestive essential oil blend from doTERRA that promotes healthy digestive function and relief from stomach upset.* Perfect for a nervous stomach and bloating.* DigestZen is also helpful in harmonizing emotional imbalances that can contribute to an upset stomach and digestive discomfort.* 
Ginger is distilled from the ginger rhizome, which is often used as a cooking spice. Ginger essential oil supports digestive health and may reduce occasional feelings of nausea.*
Caraway seeds have been used to support digestion since Ancient Egypt, with written evidence dating its use to at least 1550 BC.* Caraway essential oil is distilled from the seeds of a sweetly scented herb in the carrot family. Popular in Scandinavian, German, and Russian recipes, Caraway oil eases flatulence, freshens breath, and acts as an overall digestive tonic.*
Sweet and sophisticated, Anise essential oil is often added to baked goods and liquors in Europe to promote digestive health.* It is a unique oil because it is steam distilled from dried anise fruits, which produces a soothing oil with a licorice-like aroma and potent digestive benefits.*
Fennel essential oil has been shown to relieve the discomfort associated with indigestion and to nurture a healthy intestinal tract.*
DigestZen can be taken internally to ease symptoms of occasional digestive disturbance, such as bloating, gas, and indigestion.* As a convenient alternative, you can take DigestZen softgels once a day or as needed. 
DigestZen can also be used topically, and comes in a touch roller for convenient application on kids. Rub one to four drops on the stomach before flying or taking a road trip for a calming aroma. Dilute one drop in four fluid ounces or more of water or tea to support digestion or minimize motion sickness.* DigestZen is designed to be used with or without the complementary line of DigestZen nutritional products.