GREAT LENGTHS SILVER SHINE SHAMPOO 6.7 OZ
The latest innovation for blonde hair is here...Silver Shine the best shampoo for blonde hair extensions from Great Lengths.  Banish the brass and refresh your blonde every single week without the fear of damage or dehydrating your hair. For hair extensions wearers or those who prefer the au naturele look, Silver Shine Shampoo is the perfect remedy to fading blondes.
Designed with bleached and grey hair in mind, the innovative violet colour pigment neutralizes and nurtures yellow and brassy tones. 
How Does It Work? 
The KERA-PROTECT-KOMPLEX (KERAPHLEX®) improves the hair structure, repairs hair damages and prevents new damages. The result?  Hair will become silky and smooth to the touch.
PRODEW 500 provides for new GL brilliance and protects the hair colour against premature fading.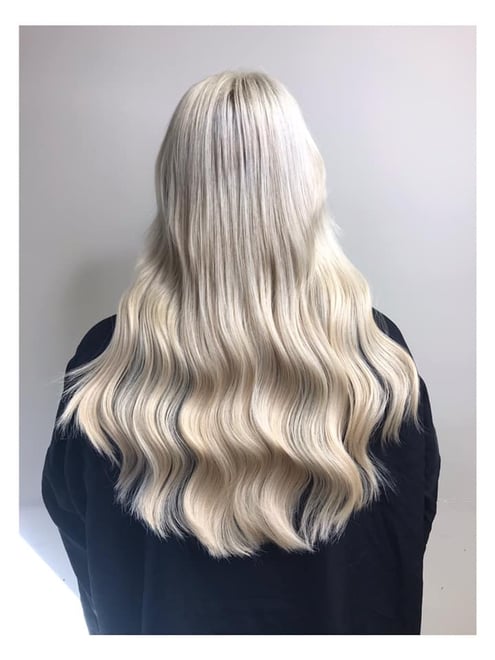 Image by Alanna Loughran at Petra's House Of Colour 
How and When Do You Use It? 
Ideally shampoo the hair once a week with your Silver Shine Shampoo. As with all  professional shampoos, we recommend to shampoo the hair twice. The first shampoo can be lathered into the hair and then rinsed thoroughly. Repeat for the second cleanse. This is when the shampoo can be left on longer for the colour pigments to penetrate the hair. The longer the shampoo is left on, the ashier the tone will be.
Silver shine shampoo is a maintenance essential. Naturally, blonde tones will become warmer over time. This is largely due to the natural hair being darker than the blonde tone it has been changed too. To reduce this warmth from building up in the hair, use once a week.
For blondes, it is also a great way of softening a rooted or balayage effect. Cooling the blonde tone down, often creates a softer blend between the natural depth of the root and the lightened end. Using the Silver Shine shampoo regularly can aid that seamless finish.